Le MT180® ou les infortunes de l'excellence
Ten years ago, My Thesis in 180 Seconds ® (MT180®) appeared in the world Francophone higher education. Modelled on Australia's Three Minute Thesis (3MT), this communication competition for doctoral students engages students in a public speaking competition in which they have three minutes to pitch their research projects. In this sense, MT180 might be understood as a sort of popularization contest aiming to shed light on the "research report." Yet when one considers what is in play more closely (Corsi et al), this interpretation becomes questionable. Indeed, once one begins to ask former participants about their opinions regarding their experiences over the course of the competition, the idea that My Thesis primarily serves to bring science out of the laboratory and to raise interest in researchers becomes ever more clearly in need of being re-examined. This rethinking of what is at stake in MT180 is what we present here.
Il y a dix ans maintenant, Ma thèse en 180 secondes® faisait son entrée dans les mondes francophones de la recherche et de l'enseignement supérieur. Inspiré d'un dispositif Australien, Three Minutes Thesis (3MT), cette compétition de communications pour doctorants porte les candidats à s'affronter les uns aux autres à coups de speechs de trois minutes censés rendre compte de leurs travaux de recherche. Il pourrait, en somme, s'agir d'une sorte de concours de vulgarisation visant à mettre en lumière « la relève de la recherche ». Or, à étudier précisément ce qui se dit et se joue au MT180® (Corsi et al.), il est permis d'en douter. Et, à demander à d'anciens lauréats ce qu'ils pensent de leur passage sur les planches du concours, l'analyse selon laquelle Ma thèse en 180 secondes® servirait premièrement à faire sortir les sciences des laboratoires et à valoriser les chercheurs en devenir demande à être réexaminée de près. Ce que nous proposons de faire ici.
Fichier principal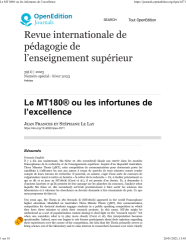 Le MT180® ou les infortunes de l'excellence_Frances-LeLay2023.pdf (427.46 Ko)
Télécharger le fichier
Origin : Files produced by the author(s)