Innover dans les forces spéciales
How do military personnel succeed in designing or perfecting equipment useful to their mission? This paper will analyse the production of material innovations that are characterised by their ability to respond to an operational need, whose design is based on the skills, resources and abilities of soldiers in the field, and whose modelling and prototyping do not require the deployment of major research and development resources. We will show that these activities are based on an inverted form of "something on the side". More generally, the question arises as to the capacity of an institution marked by the rigour of its hierarchy to make accessible to its personnel the margins of autonomy necessary for the engagement of frugal forms of technological research and development. Through an analysis centred on two case studies—a grenadelaunching pole and an oxygen mask for dogs—of innovation by and for Special Forces operatives, we highlight the difficulty, for the military institution, of making an 'innovation logic' coexist with an 'organisation logic' and articulating them.
Comment des militaires réussissent-ils à concevoir ou à perfectionner des équipements utiles à leur mission ? Il s'agit ici d'analyser le travail de production d'innovations matérielles, qui se caractérisent par leur capacité à répondre à un besoin opérationnel, dont la conception repose sur les compétences, les ressources et les habiletés de soldats engagés sur le terrain et dont le maquettage puis le prototypage n'imposent pas le déploiement d'importants moyens de recherche et de développement. Nous montrerons que ces activités s'appuient sur une forme inversée de « travail en perruque ». De manière plus générale, se pose la question des capacités d'une institution marquée par la rigueur de sa hiérarchie à rendre accessibles à ses personnels ces marges d'autonomie nécessaires à l'engagement de formes frugales de recherches et développements technologiques. À travers une analyse centrée sur deux études de cas – une perche lance-grenades et un masque à oxygène pour chien – d'innovation par et pour les opérationnels des Forces spéciales, nous mettons en exergue la difficulté, pour l'institution militaire, à faire coexister une « logique d'innovation » avec une « logique d'organisation » et à les articuler.
Fichier principal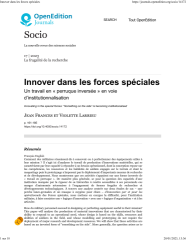 Innover dans les forces spéciales_Frances-Larrieu2023.pdf (761.18 Ko)
Télécharger le fichier
Origin : Files produced by the author(s)