GPS piéton : quels points de repères pour faciliter la navigation ?
The orientation from a map is a cognitively complex activity. The success or performance of an orientation task particularly depends on the characteristics of the map used (e.g. [5-6]). The purpose of the present study was to identify, through eye movement recording, the effects on navigation of adding 2D or 3D buildings to maps, and to link these effects with working memory capabilities of individuals. Thus, 64 participants had to make Google StreetView routes using a static map 1) without any building, 2) with 2D buildings, or 3) with 3D buildings. The results indicate that the 3D map is most effective for participants with high visuospatial processing capabilities, but is an inconvenience for participants with low visuospatial capabilities. These results lead to recommend to designers of pedestrian GPS to take into account the variability of users' cognitive profiles by offering configurable devices.
L'orientation à partir d'une carte est une activité complexe sur le plan cognitif. La réussite ou la performance à une tâche d'orientation dépend notamment des caractéristiques de la carte utilisée (e.g. [5-6]). L'objectif de la présente étude était d'identifier, grâce à l'enregistrement des mouvements oculaires, les effets sur la navigation de l'ajout des bâtiments en 2D ou en 3D sur des cartes, et de mettre en lien ces effets avec les capacités de mémoire de travail des individus. Ainsi, 64 participants devaient réaliser des parcours sur Google StreetView en s'aidant d'une carte statique 1) sans bâtiment, 2) avec des bâtiments en 2D, ou 3) avec des bâtiments en 3D. Les résultats indiquent que la carte en 3D est la plus efficace pour les participants dont les capacités de traitement visuospatiales sont élevées, mais constitue une gêne pour les participants dotés de faibles capacités visuospatiales. Ces résultats conduisent à préconiser aux concepteurs de dispositifs d'aide à la navigation de prendre en compte la variabilité des profils cognitifs des utilisateurs en proposant des systèmes adaptatifs paramétrables.
Fichier principal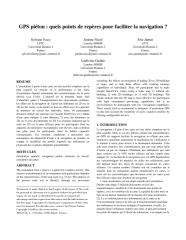 129_Fleury_Nicol_Jamet_Gueho.pdf (561.86 Ko)
Télécharger le fichier
Origin : Files produced by the author(s)